Kazakh citizens increase the amount of legalised money by opening accounts in banks by over 1,200% since the beginning of 2016. The total amount of money returned to the Kazakh economy stood at KZT1,336bn as of August 1. This money accounted more than 65% of the total volume of legalised assets (including property and securities).
The money that has already been legalised was equivalent to 3.3% of the country's GDP in 2015. Should the current growth rates continue until the end of the year this share may increase to almost 8%.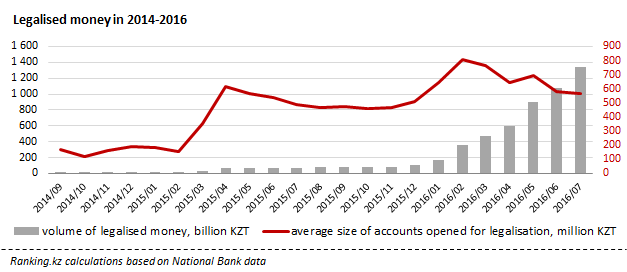 Starting from January 2016 the average size of accounts opened for legalisation exceeds KZT0.5bn. In Almaty, an unconditional leader on the legalisation programme, the average size of accounts closely reached KZT1bn. The second largest average size of accounts was recorded in Mangistau Region.
Legalisation accounts have now been opened in all regions of Kazakhstan with sharp growth in the regional shares of the total amount of money legalised reported in Karaganda Region, South Kazakhstan Region and Aktobe Region.