The beginning of 2016 demonstrated a number of negative tendencies in Kazakh economy's development. Namely, in 1Q2016 real GDP growth went down by 0.2% for the first time in six years since the last financial squeeze. Another hugely important fact is that in January-April the country's short-term economic indicator plunged by 0.9% as a result of downward trends in retailing, industry and telecoms. Clearly, the major influence comes from the oil and gas sector which is currently experiencing lagged shocks of the 2014-2015 collapse in prices. The pervasive bearish tendency takes place due to a huge role of oil produciton in the economy, and hence, due to the marked dependence on the currently volative oil and gas sector. Remaining in the green-zone in 2014-2015 thanks to its reserves and a lagged nature of the shocks, by the beginning of 2016 Kazakhstan had no resistance capacity to overcome the crisis. The latter expressed itself in the falling real incomes, -2.1% in January-April y-o-y, and in a sharper decline in exports (-30.9% in 1Q2016) versus imports (-28.4%), resulting in diminished trade surplus and smaller overall foreign trade. 
Nonetheless, there were a number of positive signals in the first four months of 2016 as well. For instance, Kazakh agriculture increased by 2.6%, manufacturing (the Achilles' heel of Kazakhstan) went up by a modest 0.4% thanks to metals and food production. Another promising statistic, is the positive growth of construction, which went up by 6.3%. Yet even more striking is a 14.9% growth in investment  that predominantly came from Kazakh companies' own funds.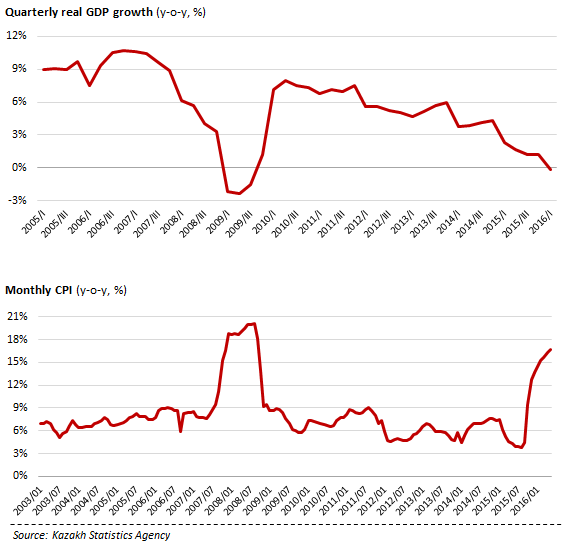 However, the sectors of the economy that are under stress play a much more important role and the correspondig negative shocks offset  abovementioned positive trends both in importance and extent. Monthly consumer inflation has been on the rise since August 2015 and exceeded a 10% threshold in November of that year. In January-April y-o-y CPI stood at 15.4% reaching a high point of 16.3% y-o-y in April. Hence, it is no surprise that monthly real income growth has been in in the negative zone for a year already with a drastic decline in March 2016 and December 2015. Even though it shows certain prospects of a bounce back to positive area, we link such a possibility only to the fact that it will show growth from a low base.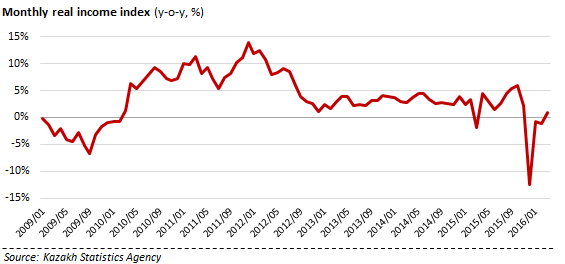 The extractive industries dropped by 2.7% in the first four months of the current year compared to a year ago. Oil production decreased by 2.7%, iron ores extraction plunged by 26.8% and coal extraction fell by 10.9%. In contrast to that, gas extraction increased by 6.8% and the output of nonferrous metal ores went up by 11.2%. Overall, the extractive sectors, so vital for the economy, drag it downward through weakened real incomes and aggregate demand, as well as through shortages of liquidity in capital markets that national authorities cannot overcome because of two-digit inflation imported as a result of significant dependence on imports. Thus, the economy is experiencing a classic commodity volatility crisis due to its out-of-date structure and limitations of growth potential.