The level of monopolisation in the banking sector calculated as share of commercial banks' loan portfolios stands at over 1,000 points which points to reduction in the level of competition and choice for clients in terms of alternative providers of banking services.
The bulk of loans was issued by Kazkommertsbank – 25.3%, and sharp growth in its share from 16.2% to 22.5% took place in summer 2015 after its acquisition of BTA Bank. By June 2016 Kazkommertsbank claimed additional 2.8% of the loan market accounting for over a quarter of the market. Overall, the share of top 10 banks exceeded 80% of the total loan market.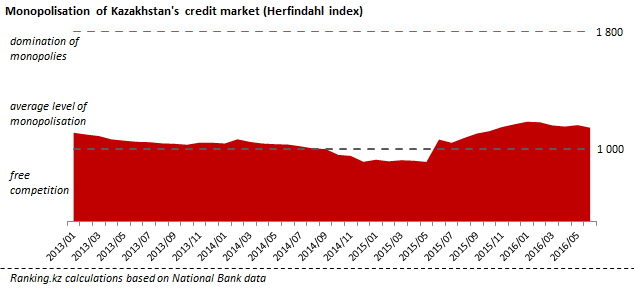 Compared to the level of competition in the neighbouring Kazakhstan has an edge over Russia and Belarus. The market is monopolised by two state-owned banks in Belarus which account for over 50% of the market, with the largest bank Belarusbank's share at 37.8%, almost 50% more than Kazkommertsbank's share. Russia's dominant Sberbank controls 34.4$ of the loan market, followed by VTB with 11.2%. All this has led to the level of monopolisation in Russia being higher by 26.7% than that in Kazakhstan.
A more balanced and developed market in Turkey operates in free competition (the level of monopolisation is less than 1,000 points). State-owned Ziraat Bank accounts for only 13% of the loan market – the highest share among all 47 commercial banks.
As a result, Kazakhstan needs to more closely study Turkey's experience as it has ensured higher levels of market competition at a relatively small number of banks than the Russian banking sector which has not managed to create a competitive medium.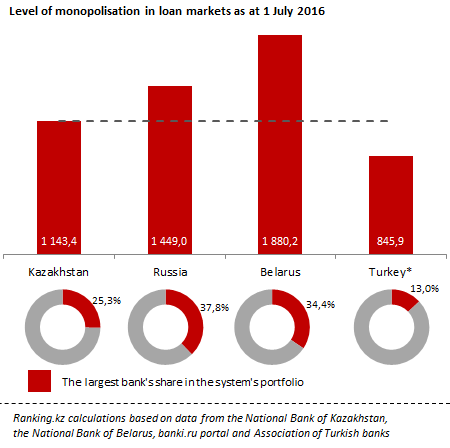 Out of major players significant growth in share, apart from Kazkommertsbank, was posted by Tsesnabank – an increase of 1.4 percentage points to 10.2% of the loan market. Insignificant reduction in the shares of three out of the top five banks – Halyk, Sberbank and CenterCredit – did not impact the total volume of the loan portfolio controlled by these banks which share a combined 60% of the market. The 20 bottom banks accounted for less than 10% of the total credit portfolio – 7.6%.